Rheonova: Lab service provider for mucus analysis
Our mission: Rheology made accessible to all
Rheonova also provides sample testing, research and investigation using rheology measurements. In addition to being a device manufacturer, Rheonova is an analytic laboratory and engineer consultant company in Rheology.
For pharmaceuticals and biotech companies, testing the efficacy of a new molecule or a drug by using mucus rheology would be an added value to their clinical investigation!
Using our experience in fluid rheology, we offer powerful insights on the management of mucus and sputum samples
Processing
Storage
Handling
Volumes
Measurement cell choice
We provide rheology profiling and characterisation of your mucus and sputum samples, the commonly measured properties include:
Viscoelastic modulus
Damping factor
Critical strain at flow
Critical stress at flow
Read our white paper "Rheology of the airways mucus and sputum"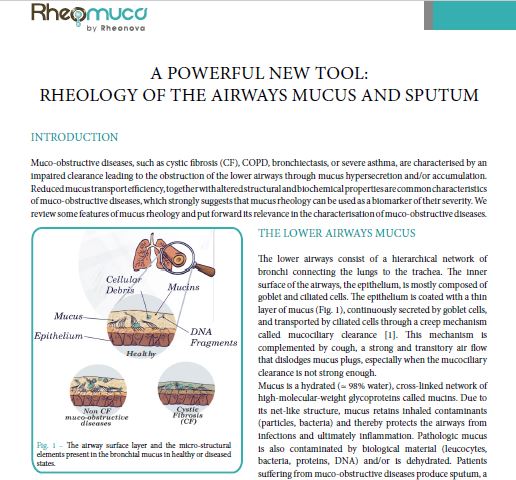 Contact us to recieve this paper
Would you like to send us your sample?